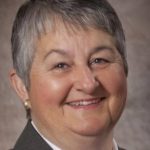 Ada County Treasurer Vicky McIntyre, running for state office, on Tuesday decried criticism of her use of a public credit card as "a smear campaign run by a gang of establishment Republicans to deny a conservative candidate from entering office."
County commissioners earlier in the day asked her to close her county-issued credit card amid an attorney general's investigation into her spending.
McIntyre used the card for personal expenses while she attended a conference in Las Vegas last month, as first reported Monday by KBOI-TV. The incident came to light during a normal review of credit card statements by the County Clerk's Office. It follows an audit last fall that found other examples of McIntyre using the card for personal use, according to a copy provided to the Statesman.
The news comes as McIntyre seeks election as Idaho's state treasurer. Her main hurdle, a three-way GOP primary, is less than a month away on May 15.
McIntyre, 65, emailed extensive comments on the matter to the Statesman Tuesday evening, saying "I usually don't sling mud over disagreements with other elected officials" but that she needed to respond to "misleading facts" and "a false narrative" in news reports.
The fall audit found "indication that every department that has a county-issued credit card" has not met county policies at one time or another, McIntyre wrote.
"I am offended by these egregious accusations, especially in light that not a dime of taxpayer money was spent on personal items," she wrote. "… I have not, nor would I ever intentionally use county funds for personal use!"
The treasurer used the card for hockey game tickets ($173), a purchase through Ticketmaster ($104) and about $50 in taxi fares, County Clerk Chris Rich wrote in a Friday letter to the commissioners.
"The treasurer and the employee, for whom the tickets were purchased, immediately reimbursed the county when the matter was brought to their attention," Rich wrote.
The county's credit card policy expressly prohibits purchasing personal items. State law also places "strict limitations in the use of public monies for personal use," Rich told the commissioners.
"It is my recommendation that the treasurer's card be canceled," he wrote.
Commission Chairman Dave Case said upon receiving Rich's letter, he contacted the Ada County Sheriff's Office to find out the procedure for investigating an elected county official for possible criminal wrongdoing. The Sheriff's Office directed him to the Idaho Attorney General's Office, which has authority to investigate such complaints.
Case said the AG's office is investigating. An AG's spokesman on Tuesday could neither confirm nor deny that. The office usually does not comment on pending investigations.
The commissioners in a Tuesday letter asked McIntyre for the "immediate termination and surrender" of her credit card. They can only request McIntyre take that step — they can't force her to.
"The recent inappropriate use of the county credit card by you raises not only legal concerns, but is a clear violation of county policies and procedures," read the letter signed by all three members of the commission. "… This, unfortunately is not the first instance of the credit card being used inappropriately."
McIntyre said Tuesday that the tickets were offered as part of the annual Government Investment Officers Association conference. As such, she wrote, "I saw the participation as a related event of the association and therefore, used the county credit card." She and her chief deputy treasurer reimbursed the county when Rich declared the tickets a personal expense.
The taxi costs, she said, were "to attend a vendor event that was not in the conference hotel."
McIntyre was elected county treasurer in 2010 and re-elected in 2014. She ran unopposed both times as a Republican.
She is leaving the county position to run for state treasurer. She has two GOP opponents in that race: Julie Ellsworth and Tom Kealy, both of Boise. No Democrats filed, meaning the winner of the May primary is virtually assured the job.
PAST AUDIT
Last fall's countywide audit found a number of problems. Many of those, however, occurred only in the Treasurer's Office, according to the 76-page report.
The audit found McIntyre violated county policy by inadvertently using her county credit card for personal use four times in January 2016, then using a personal check to make a reimbursement payment on her bill once she discovered the error. She also repeatedly used her county card to purchase meals while traveling and in Boise, according to the audit. Under county policy, a per diem is used for travel meal reimbursement, while a local meal requires paperwork proving the meal was a "necessity."
Additionally, just 13 percent of the treasurer's event or conference travel was submitted for timely prior approval, another policy violation.
McIntyre addressed some of the findings in an Oct. 4, 2017, letter to the county auditor. She said in some instances county purchase policy is not always the most convenient or the cheapest route. And, she objected to the county's policy on the local meal paperwork, a problem flagged in several departments.
"As the elected treasurer … I should not be challenged on its necessity," McIntyre wrote. "Once a budget is approved the elected official should have the authority to utilize the funds for business operations."
This is not the first time commissioners have scrutinized McIntyre's performance, nor her office. McIntyre on Tuesday told The Spokesman-Review she believes the three Republican commissioners are continuing to retaliate against her for a 2014 complaint to the AG's office about campaign contributions to the commissioners from Republic Services.
In September 2015, the commissioners sent a letter to McIntyre ticking off concerns they had about her job performance. The complaints ranged from what Commissioner Jim Tibbs said at the time could be some potentially criminal activity by her staff, to personnel-management problems including staff turnover that reached 48 percent in 2014.
In February 2016, the AG's office charged one of McIntyre's former employees with multiple theft and felony charges involving an estate case handled by the treasurer's office in 2014. The treasurer's office handles the estates of county residents who die without a will and have no heirs.
Eleasha Jenkins, who worked in the treasurer's office from April 2013 to April 2015, pleaded guilty in October 2016 to grand theft. In exchange, two other counts of grand theft and two counts of forgery were dismissed. She is currently on probation.
Another woman charged in the case, who did not work for the county, was cleared of any wrongdoing.
By: Cynthia Sewell, Elections, www.idahostatesman.com